Home Page
Scion Of Zion Is The Internet Teaching Ministry of Dr. Ken Matto
Attesting to and proclaiming the doctrines of Free Grace
while preaching Christ crucified, dead, buried, resurrected, ascended and coming again! SOON!!!
Advancing the Kingdom of Our Lord Jesus Christ as written in the New England Confederation of May 19, 1643.
---
A note from RM Kane, the current webmaster for this site:
Welcome to the new and improved Scion Of Zion Website! The same great content is still here: commentaries, insightful articles, bible studies and more. However, the appearance of the web pages is being updated to be more uniform, more readable, and hopefully easier to navigate around the site. As always, you will find things here that other Christian websites won't touch with a ten foot pole. That includes:
- Bible version articles that point out serious problems with modern translations.
- Information that exposes Zionism, that many pro-Israel Christians may not be aware of.
- Commentaries on problems with the modern Church including worldly music, ecumenism and the charismatic movement.
- Views of eschatology (end time prophecy) that may clash with the super-popular "Pre-Trib Rapture" theory.
---
PLEASE NOTE: Dr. Ken Matto went home to be with the Lord on January 9, 2022, succumbing to long term chronic health problems.
His obituary can be viewed HERE
Alternate obituary can be viewed HERE
Per Ken's wishes, his estate executors are planning to keep this website up and running for another 5 years (until early 2027) hopefully.
---
NEW BOOK BY DR. MATTO!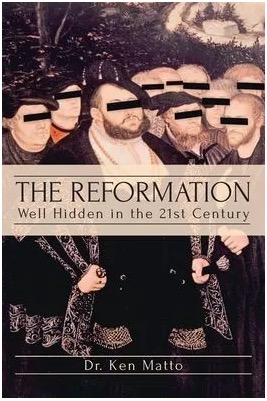 Dr. Ken Matto's newly released "The Reformation: Well Hidden in the 21st Century" is a fascinating look at the historical context of modern theology.
"The Reformation: Well Hidden in the 21st Century" from Christian Faith Publishing is a thought-provoking clarion call for a return to scriptural study and compliance as opposed to the theological systems currently created and taught in many churches.
---
Click Here To View Table Of Contents
Click Here For Our Bible Commentaries
Click Here For Our Bible Version Articles
Click Here For Our Welcome Message
Click Here For Our "About Us" Page
Click Here For Books Authored By Dr. Matto
---
---
Giving the Gospel of grace a world wide voice since November 20, 1997!
Over 25 years on line!
Ministered to 129 countries in December 2021!
Proclaiming the unchanging message to a changing world!
---
Our Ministry Verse
"Whom we preach, warning every man, and teaching every man in all wisdom; that we may present every man perfect in Christ Jesus" - (Col 1:28 KJV)
Our Ministry Hymn
A Mighty Fortress is Our God (click here to listen on Youtube)
Our Ministry Purpose
Serving This Generation and Helping to Train the Next Generation! (Acts 13:36)
O Faithful Christian, search the Truth, hear Truth, learn Truth, love Truth, speak the Truth, hold the Truth till death. --- (John Hus)
---
A personal message about this ministry.
If You are Unsaved or not sure of your Eternal Salvation, please Click Here
New Christians Click Here
---
E-Mail: scionofzion email forwarder
Correspondence is welcome but please keep in mind that Dr. Ken Matto has passed away and a volunteer is attempting to handle all future e-mail correspondence.
---
This Christian Website Is Currently Maintained By:
RM Kane - ComingInTheClouds Internet Ministry
---
This Christian Website is Hosted by:
Click Above For Affordable Web Hosting Services
*** Scion of Zion is a Secure Website ***