Table of Contents
Not Mary, Not Mohammed, Not Moses, but Christ Alone!
Updated
6/10
/19



Time in Whiting, NJ - Eastern Standard Time (Philadelphia & New York City)

---
---
The 2020 Scion of Zion Scripture Pocket Calendars are here. If you would like some, please e-mail me the quantity you desire and I will get them out to you by mail free and postpaid. Please include your home or business street address. E-mail your request at: scionofzion1611@gmail.com
---
Would You Be Willing to Help?
I receive Bible requests from people in Africa who cannot afford them so I send them a King James Bible. I send them International First Class which gets them better processing and they arrive in good condition. Each Bible costs $23.25 to send so I am asking if there is any who would be willing to help in this ongoing project. Your funds would go directly for postage. I supply the Bibles and mailers. This is not a fund request for the upkeep of the website since that is budgeted and fully paid for each year without hardship. I am on Social Security so any funds would help. Giving to Media Ministries assures the head guy maintains his 6 figure salary, giving here assures that a Bible will be sent to a person who cannot afford one. Give a person a sermon and he is good for 60 minutes. Give a person a Bible and they are set for life! Countries I have sent Bibles to are: Ghana, Kenya, Philippines, Nigeria, Malawi, Sierra Leone and here in the USA to Florida and to Lansdale, PA for Lansdale Day! 90 Sent Out as of 6/1!
If you would like to partake of this endeavor please e-mail me at: scionofzion1611@gmail.com 4/14/19
---
Planning a Trip this Year? How about the Good Ole' USA?
---
Are You Saved? If Not, Click Here!
This Was Your Life! If you are unsaved, please watch this 8 minute Video.
---
This is a page which contains links to all my studies on this site in the area of Prophecy for easier access!
---
One of the most Powerful Sermons on abortion I have heard by Dr. Stephen Pollock of the Malvern Free Presbyterian Church of Malvern, Pennsylvania!
---
ITEM FOR SALE
I have a packaged set of seven coins of Israel for sale. They are in uncirculated condition. 2 Coins dated 5717 (1956) - 1 Coin dated 5712 (1951) - 3 Coins dated 5714 (1953) - 1 Coin dated 5715 (1954) - Great Gift for a history buff or for a church to display. $20 I can't upload pictures to my website so if you have any interest in them I will e-mail a picture of them to you.
I can be reached by e-mail for this item at: scionofzion1611@gmail.com
---
Have you heard of Biosludge? This has to be the most evil violation of the people of the United States. You must watch this film to be informed about an intentional poisoning of our land, people, environment, and future. The environmentalists have turned a deaf ear, the government is in bed with corporations who produce these poisons which contain more than 5000 contaminants and is being sold for fertilizer on farms and even for gardens around homes. It is nothing more than polluted human feces and it will be showing up on your dinner plate and is already in the water you drink! The slick PR people have renamed it "Biosolids" but it is the same dangerous product.

Direct Link to Documentary>>https://www.brighteon.com/5972782789001
---
With so many frauds on TV and preachers who are personal wealth builders on Radio which includes both charismatic and non-charismatic ministries, I would like to make some suggestions on some good ministries to support. These ministries are real and they do get the word of God out to the world rather than it going into someone's mansion or private jet. Click Here
---
My Book Page - 4 Books I have Personally Authored
I have written a tract entitled "Are You Good?" which is available through Moments With The Book. Click here for more information and the text of the tract!
---
Foundational Bible Studies for New Christians
Basic Bible Doctrine and Principles For New and Young Christians
- Studying Scripture According to Scripture
Updated to 27 Studies from 13! Click Link Above!
---
Christian Materials Needed
Okay, time to do a stack dump. No I don't mean on your computer, I am talking about dumping that stack of Christian books in your home or library that is only collecting dust. Christians overseas need Christian materials, especially Pastors of indigineous churches. Where should you dump those books? Please send them to Christian Resource International. They re-send Christian materials all over this world and especially to Christians who cannot afford them. You may visit their website at: http://cribooks.org/ Visit them on Youtube: https://www.youtube.com/user/cribooks for a 2 minute video plus others. Many are becoming Christians in different countries and the heavy need is for Bibles. You can even run a book drive at your church and then ship them out to CRI or you can deliver them yourself. Consider this great opportunity to help the body of Christ grow worldwide. Their address is given on the website.
---
Looking for a Good Study Bible from the Reformed Perspective? I would like to suggest the Reformation Heritage Study Bible using the King James Version, Cambridge Text. Here is a seven minute video showing the excellency of this Study Bible.
Reformation Study Bible Video>>Click Here
Reformation Study Bible Page at Reformation Heritage Books>>Click Here
---
Newest Articles - 6 Months
---
---
---
Feature Mission & Rescue

Mission for June 2019
---
On-Line Bibles
---
---
---
Far East Broadcasting (FEBC) is seeking to purchase 10,000 self-powered radios with crank, which will allow people in countries like Vietnam, North Korea, China and other places that disallow Bibles to hear the gospel. The radios can be used in a field, mountains where it may take people 3 days to bring the gospel but with a radio they get it in an instant. We have radios in our car, in our homes all over the place, but these people are unable to have that luxury. One radio can even begin a church as in these countries many people will gather around to hear the broadcast. Each radio is $30 so please consider a donation. Our brothers and sisters need these radios because the only biblical training they receive is by radio where they can also copy down the Scriptures in their own language. To answer your question, yes, I donated for some radios, now how many will you give? For more information click below: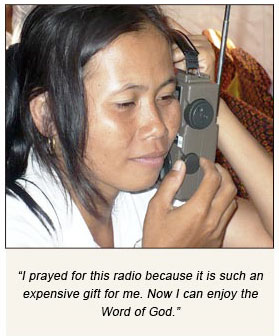 ---

DRESDEN (ANS) -- The number of persecuted Christians is on the rise worldwide, according to Professor Thomas Schirrmacher, director of the Religious Liberty Commission of the German Evangelical Alliance. Three in four cases of severe persecution are targeted at Christians, said Schirrmacher in a lecture at a gathering of the Protestant Association of the Christian Democratic Union in Dresden. According to Schirrmacher at least 55,000 Christians are killed each year for religious reasons. Christians in India, Indonesia and Pakistan run the highest risk of losing their lives.
---
---
The Most Dangerous Place for a Christian on Earth
---
Scion of Zion was born on November 20, 1997
Sending forth the Gospel in Cyberspace for over 21 1/2 Years!
To God be the Glory
(Psa 68:11 KJV) The Lord gave the word: great was the company of those that published it.
Ministered to 153 Countries in May 2019
---
Memory Lane
Pictures of the August 1981 Family Radio Bible Conference at Tuscarora Inn
---
---
---
The Testimony of David Berkowitz
---
The news the way it should be reported if it wasn't controlled by the Globalists. This is a bi-weekly uncontrolled publication which fills in the gaps that the main stream media intentionally omits. Yes and that includes FOX because it is as controlled as the rest of them. What they do is just compare Republican Philosophy to Democratic Philosophy and that is it and they never hit the real issues. Are you kidding? A network owned by Rupert Murdoch is going to tell the truth?
---
Do you really want to know what is happening to our Economy?
---
Click Above for 19 On Line Job Sites and 8 Training Sites

---

23,859,864

Page Views from 7/24/99 to 6/9/19

Site Updated Frequently

TO GOD BE THE GLORY