Table of Contents
Not Mary, Not Mohammed, Not Moses, but Christ Alone!
Updated
4/30/17
---
Are You Saved? If Not, Click Here!
This Was Your Life! If you are unsaved, please watch this 8 minute Video.
---
Christian Materials Needed
Okay, It is time to do a stack dump. No I don't mean on your computer, I am talking about dumping that stack of Christian books in your home or library that is only collecting dust. Christians overseas need Christian materials, especially Pastors of indigineous churches. Where should you dump those books? Please send them to Christian Resource International. They re-send Christian materials all over this world and especially to Christians who cannot afford them. You may visit their website at: http://cribooks.org/ Visit them on Youtube: https://www.youtube.com/user/cribooks for a 2 minute video plus others. Many are becoming Christians in different countries and the heavy need is for Bibles. You can even run a book drive at your church and then ship them out to CRI or you can deliver them yourself. Consider this great opportunity to help the body of Christ grow worldwide. Their address is given on the website.
---
Looking for a Good Study Bible from the Reformed Perspective? I would like to suggest the Reformation Heritage Study Bible using the King James Version, Cambridge Text. Here is a seven minute video showing the excellency of this Study Bible.
Reformation Study Bible Video>>Click Here
Reformation Study Bible Page at Reformation Heritage Books>>Click Here
---
Newest Articles - 6 Months
---
Attention: Christians Who Understand The Dynamic Of Giving
I am need of a new or even a good used car. Am looking to purchase another Nissan Sentra. My present car is a 2009 which has 193,000 miles on it with a very bad CVT transmission and brakes. I like the Sentra because the seats give me good comfort since the way they are contoured. My disability is not negatively affected by the seats. I am unable to work so another car would put me into debt and cause a financial hardship which would be hard to manage on a monthly disability check especially with all the necessities going up in price. As always, all my cars are rolling witnesses since I place godly Bumper stickers on them such as Freedom of Belief Ends On Judgment Day and Jesus Christ Is Not A Swear Word and Not Moses, Not Mary, Not Mohammed But Christ Alone. You are probably thinking that this guy has gall asking for funds for a car but we serve a Great Big God and He uses the body of Christ to help those in need in the body of Christ. The car isn't only for personal use but I also take people to the doctor and for outpatient treatment of disease. There may be some who might want to help toward the purchase of the car and here is a way to help. Many people visit this site each day and if any visitors are so inclined, you could send $1 and it would help in the financial situation in getting another car. If you would like to send $1, please send it to:
Ken Matto - 109A Hudson Parkway - Whiting, NJ 08759-6311
Matthew 25:40 (KJV) And the King shall answer and say unto them, Verily I say unto you, Inasmuch as ye have done it unto one of the least of these my brethren, ye have done it unto me.
---
For Sale
Uncirculated 1864 (T-68) Confederate $10 Bill. This is not a reproduction but is part of an original hoard from the State of Alabama. Dated February 17, 1864. Serial Number 94789. Pictured is the Cavalry pulling Artillery and President Jefferson Davis. It is sealed in plastic. If you would like to see it, send me your e-mail and I will forward scanned pictures to you. I am seeking $50 for this bill. I have found some on Ebay for $38.99 but they are circulated which would have way less value. Good graduation gift for a history buff!
USA Only
E-mail: scionofzion1611@gmail.com
---
---
---
---
On-Line Bibles
---
---
---
Far East Broadcasting (FEBC) is seeking to purchase 10,000 self-powered radios with crank, which will allow people in countries like Vietnam, North Korea, China and other places that disallow Bibles to hear the gospel. The radios can be used in a field, mountains where it may take people 3 days to bring the gospel but with a radio they get it in an instant. We have radios in our car, in our homes all over the place, but these people are unable to have that luxury. One radio can even begin a church as in these countries many people will gather around to hear the broadcast. Each radio is $30 so please consider a donation. Our brothers and sisters need these radios because the only biblical training they receive is by radio where they can also copy down the Scriptures in their own language. To answer your question, yes, I donated for some radios, now how many will you give? For more information click below: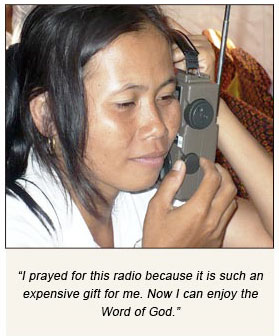 ---

DRESDEN (ANS) -- The number of persecuted Christians is on the rise worldwide, according to Professor Thomas Schirrmacher, director of the Religious Liberty Commission of the German Evangelical Alliance. Three in four cases of severe persecution are targeted at Christians, said Schirrmacher in a lecture at a gathering of the Protestant Association of the Christian Democratic Union in Dresden. According to Schirrmacher at least 55,000 Christians are killed each year for religious reasons. Christians in India, Indonesia and Pakistan run the highest risk of losing their lives.
---
---
The Most Dangerous Place for a Christian on Earth
---
Scion of Zion was born on November 20, 1997
Sending forth the Gospel in Cyberspace for 19 Years 5 Months!
To God be the Glory
(Psa 68:11 KJV) The Lord gave the word: great was the company of those that published it.
Ministered to 187 Countries in March 2017
---
Memory Lane
Pictures of the August 1981 Family Radio Bible Conference at Tuscarora Inn
---
---
---
The Testimony of David Berkowitz
---
The news the way it should be reported if it wasn't controlled by the Globalists. This is a bi-weekly uncontrolled publication which fills in the gaps that the main stream media intentionally omits. Yes and that includes FOX because it is as controlled as the rest of them. What they do is just compare Republican Philosophy to Democratic Philosophy and that is it and they never hit the real issues. Are you kidding? A network owned by Rupert Murdoch is going to tell the truth?
---
Do you really want to know what is happening to our Economy?
---
Click Above for 19 On Line Job Sites and 8 Training Sites

---

18,048,408 Page Views from 7/24/99 to 4/29/17

Site Updated Frequently

TO GOD BE THE GLORY